CIAT heat pumps are key for innovative school decarbonisation project
A pioneering decarbonisation project by a multi-academy school trust is using high-performance CIAT heat pumps to help reduce carbon emissions by more than 9,000 tonnes over the lifetime of the scheme, saving £84,000 a year in energy costs. CIAT is part of Carrier Global Corporation (NYSE: CARR), the leading global provider of innovative healthy, safe, sustainable and intelligent building and cold chain solutions.
Yorkshire-based Abbey Multi-Academy Trust (Abbey MAT) is installing 38 AquaCIATTM TD300 air-source heat pumps in five of its schools as part of a £5 million project, funded by the UK government's Public Sector Decarbonisation Scheme.
The CIAT heat pumps are powered partly by renewable electricity generated by solar photovoltaic (PV) arrays installed on school buildings, further cutting running costs and emissions. During the summer closure, when energy use is much lower, PV energy produced will be fed into the grid, generating income for schools and helping to offset winter energy costs.
"At our large secondary schools, the CIAT units are deployed in clusters in the form of heat pump farms," said David Ryder, Head of IT and Infrastructure at Abbey MAT. "The heat pumps harvest low grade 'free' energy from the environment and upgrade it to a useful temperature, replacing the need for high carbon-emitting gas boilers in the majority of school buildings. The key to success is optimising system performance by adjusting flow rates and set points to ensure comfortable indoor temperatures for students and staff throughout the day and over the year, as seasons change."
CIAT high-temperature heat pumps can generate hot water at up to 65deg C even when the external ambient temperature is as low as minus 12deg C, ideal for use in UK climatic conditions. With a coefficient of performance (COP) of up to four, the units come equipped with an intelligent programmer, enabling users to schedule different set points and flow rates over a weekly cycle - useful for application in schools and other public and commercial buildings with variable occupancy.
"We see a huge opportunity to incorporate the project into our teaching, and indeed we have already begun," said David Ryder. "For our 5,000 students, it is a practical, living demonstration of what can be achieved by rising to the climate challenge, and by using the latest technology to reduce costs and protect the environment, while maintaining a high-quality indoor environment."
Paul Smith, Sales Director for Applied Products, Toshiba Carrier UK, said: "We congratulate David Ryder and Abbey MAT on their vision and innovative approach in making the switch to renewable energy for their schools' heating needs.
"In adopting high performance CIAT heat pumps - with the additional benefit of harnessing solar-generated electricity to power them - the schools have undertaken a major transformation that sets them firmly on the path to becoming carbon neutral. It is a journey that all public and commercial buildings will need to make if the UK is to achieve the nation's strategic goal of being carbon neutral by 2050."
This innovative decarbonisation project is critical to Carrier's progress in reducing customers' carbon footprint by more than one gigaton, while also achieving carbon neutral operations by 2030, as outlined in its Environmental, Social & Governance (ESG) Goals.
For more details on CIAT heat pumps, visit the product page.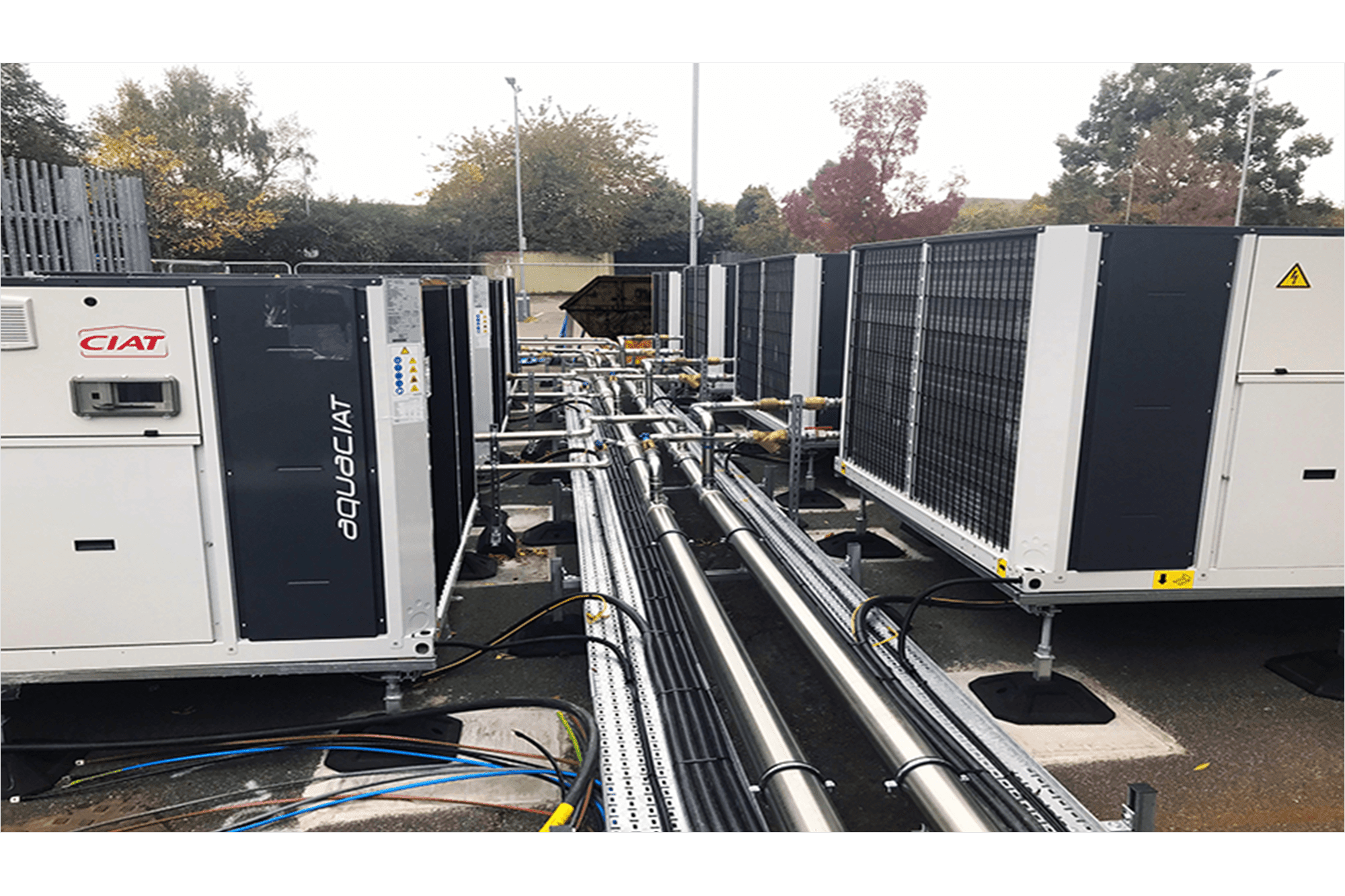 The high performance AquaCIATTM heat pumps are connected up prior to lagging.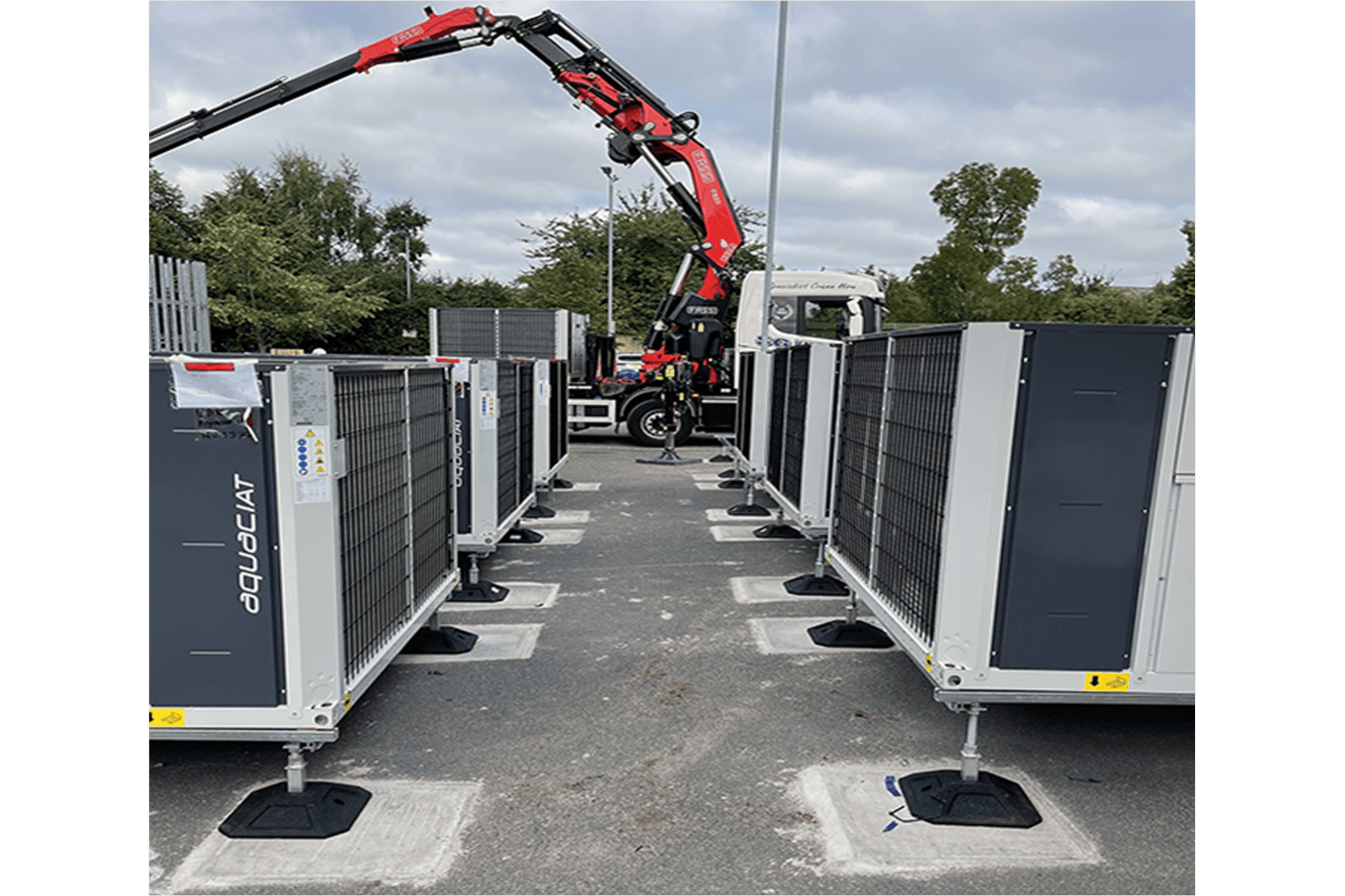 AquaCIATTM units are positioned in a 'heat pump farm' at one of the larger school sites.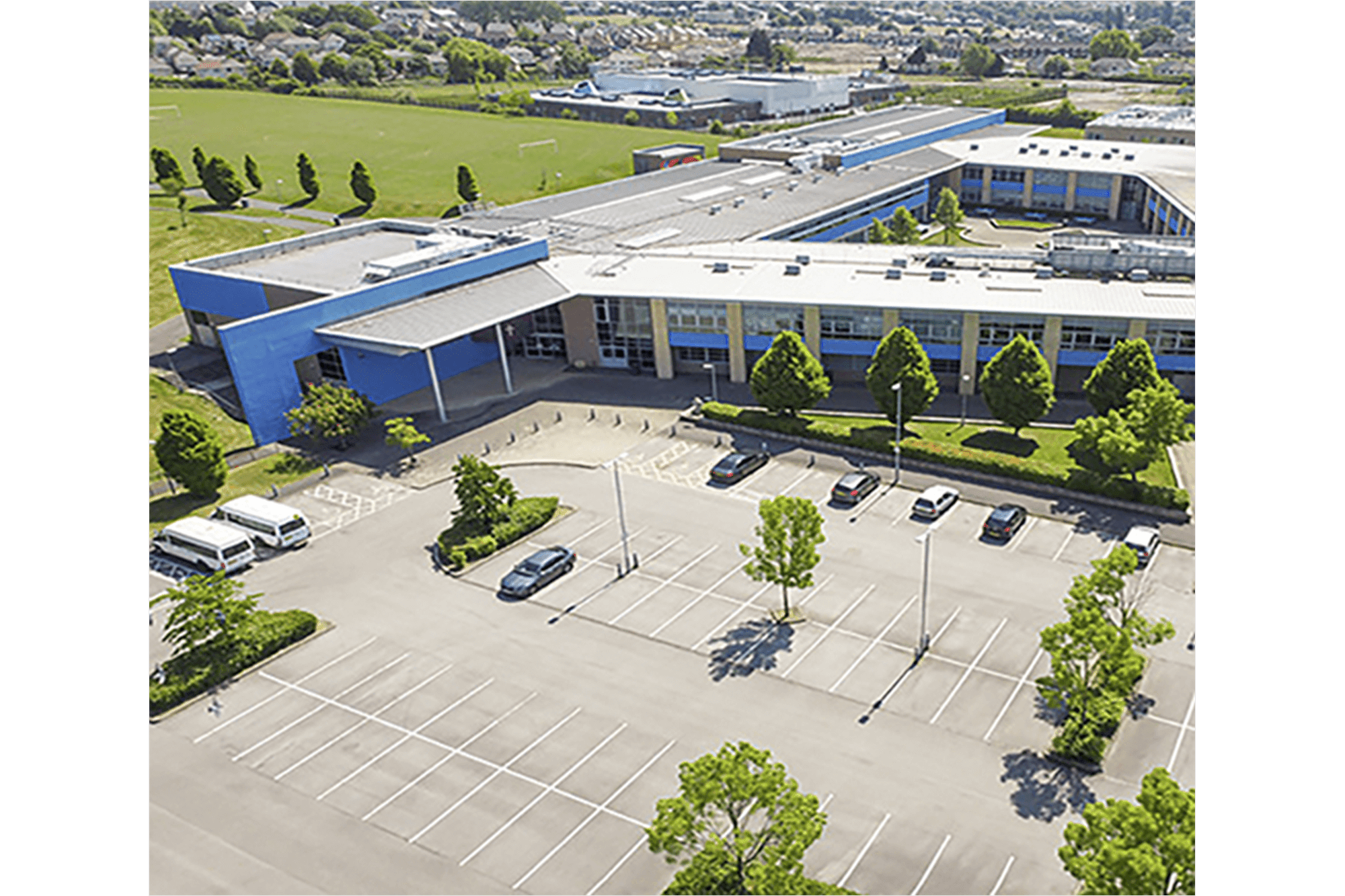 Abbey MAT is installing 38 AquaCIATTM TD300 air-source heat pumps in five of its schools as part of a £5 million project.